With the on going conflicts in Iraq and Afghanistan, America is once again remembering the service of all its veterans. Ohio Freemasonry also owes a great deal to the American Veteran.
A fine example of just such a veteran is Major Jonathon Heart. Worshipful Brother Heart was Master of American Union Lodge while it was still a traveling military Lodge in 1779. He was also the Master when it was reorganized in Marietta Ohio in 1790. This exemplary Mason lost his life in the service to his county on November 4, 1791 at St. Clair's Defeat on the Wabash.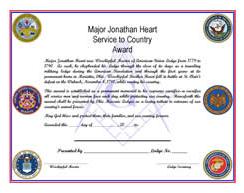 In commemoration of his sacrifice and the sacrifice made by all men and women who serve in our nation's armed forces, the Grand Lodge of Ohio has created the "Major Jonathan Heart - Service to Country Award."
This award may be presented by a Lodge to its members or members of the public, who have been honorably discharged or who are currently performing military service. Lodges are encouraged to have a special recognition dinner at which the certificates are presented. Asking the local VFW or American Legion to post colors for this event adds a very special touch.
The Service to Country certificates can be ordered from the Grand Secretary's Office for $2.00 per certificate, or they can be printed by
clicking here.